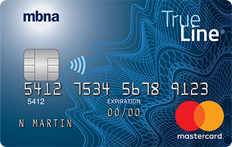 MBNA True Line® Gold Mastercard® credit card
| | |
| --- | --- |
| Annual Fee | $39 |
| Purchases | 8.99% |
| Cash Advances | 24.99% |
| Balance Transfer | 8.99% |
MBNA True Line® Gold Mastercard® credit card
Standard Annual Interest Rates of 8.99% on purchases, 8.99% on balance transfers✪and access cheques, and 24.99% on cash advances
This offer is not available for residents of Quebec.
$39 annual fee
Standard Annual Interest Rates of 8.99% on purchases, 8.99% on balance transfers✪and access cheques, and 24.99% on cash advances
A suite of comprehensive insurance**
Around-the-clock-fraud protection
Access to 24/7 customer service
✪ Balance transfers will be fulfilled in the order listed and are treated as balance transfers in accordance with your Account Agreement. The total value of balance transfers cannot exceed your authorized credit limit. If the value is greater, MBNA may send a partial payment to the named creditor/designated account. THERE WILL BE A TRANSACTION FEE EQUAL TO 3.00% OF THE DOLLAR AMOUNT OF EACH BALANCE TRANSFER INITIATED WITH THIS APPLICATION. A MINIMUM FEE OF $7.50 WILL APPLY TO EACH BALANCE TRANSFER TRANSACTION. A balance transfer may not be used to pay off or down your account balance or any other balances with us (including our affiliates, which would include any member of the TD Bank Group).
**Coverage is underwritten by Allianz Global Risks US Insurance Company (Canadian Branch) and/or American Bankers Insurance Company of Florida. Certain limitations and exclusions may apply to this benefit and others described in the certificate of insurance sent soon after your Account is opened. The Toronto-Dominion Bank is the issuer of this credit card. MBNA is a division of The Toronto-Dominion Bank.
Sponsored advertising. MBNA is a division of The Toronto-Dominion Bank (TD) and TD is not responsible for the contents of this site including any editorials or reviews that may appear on this site. For complete information on this MBNA credit card, please click on the APPLY NOW button.
Last updated 08/18/2020. Check with the credit card issuer for the most up-to-date information before applying.
Find errors in the information for this credit card? Report this listing.