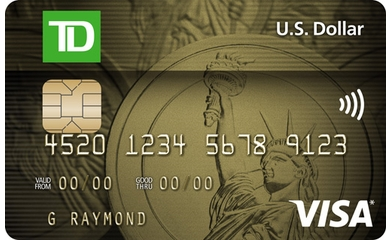 TD U.S. Dollar Visa* Card
TD U.S. Dollar Visa* Card
Make purchases in U.S. Dollars without credit card foreign currency conversion fees.
Eliminate credit card foreign currency conversion rates and fees when making purchases or paying for bills in U.S. DollarsA
Enjoy Chip & PIN security and Visa payWave* contactless payment convenience
Travel and shop with a suite of insurance coverages
Enjoy all the benefits of your TD U.S. Dollar Visa Card using Apple Pay. It's the easy and secure way to pay.B
Sponsored advertising: The Toronto-Dominion Bank (TD) is not responsible for the contents of this site including any editorials or reviews that may appear on this site. For complete information on this TD credit card, please click the "Apply Online" button.
Travel
Travel Accident Insurance
Trip Interruption/ Cancellation Insurance
Baggage Insurance
USD
There is a 21-day interest grace period on all new purchases
2% of the amount of the transaction (minimum fee of $5.00 USD up to a maximum fee of $25.00 USD)
Promotional Balance Transfer/ Cheque Fee: 3% of the amount of each Balance Transfer or TD Visa Cheque that we may offer to you a
Annual interest rates, fees and features are current as of June 19, 2017 unless otherwise indicated and subject to change.
+ Primary Cardholder remains liable for all charges to the Account, including those made by any Additional Cardholder. Maximum of 3 Additional Cardholder Cards on the Account.
APurchases and Cash Advances made in currencies other than U.S. Dollars will be converted to and show in U.S. Dollars on your TD Credit Card statement and are subject to a foreign currency conversion charge.
BApple Pay works with iPhone 6 and later in stores, apps, and websites in Safari; with Apple Watch in stores and apps; with iPad Pro, iPad Air 2, and iPad mini 3 and later in apps and websites; and with Mac in Safari with an Apple Pay enabled iPhone 6 or later or Apple Watch. For a list of compatible Apple Pay devices, see https://support.apple.com/km207105
*Trademark of Visa International Service Association and used under license.
Last updated 09/08/2020. Check with the credit card issuer for the most up-to-date information before applying.
Find errors in the information for this credit card? Report this listing.