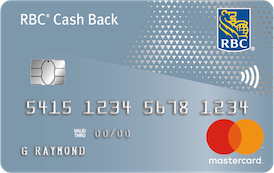 RBC® Cash Back MasterCard
| | |
| --- | --- |
| Annual Fee | $0 |
| Purchases | 19.99% |
| Cash Advances | 2.99% |
| Balance Transfer | N/A1 |
RBC® Cash Back MasterCard
Get unlimited cash back credits on your purchase!
Earn 2% cash back credits on grocery store purchases
Earn up to 1% cash back credits on all other purchases
Flexibility in redeeming your cash back credits
No annual fee and no charge for co-applicants or authorized users
'Tap and go' with the added convenience of MasterCard PayPass
Purchase Security and Extended Warranty Insurance
Chip and PIN technology for enhanced security
Zero Liability
Interest rate not mentioned on website.
Last updated 03/13/2018. Check with the credit card issuer for the most up-to-date information before applying.
Find errors in the information for this credit card? Report this listing.