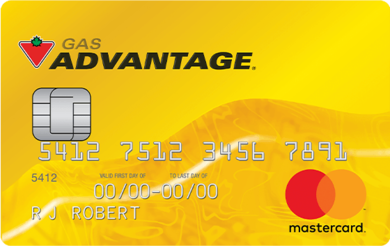 Canadian Tire Gas Advantage MasterCard®
Canadian Tire Gas Advantage MasterCard®
Save up to 10¢/litre on gas at Canadian Tire gas bars, instantly.
Worldwide acceptance at millions of merchants across the globe
Cash advances at any Automated Bank Machine (ABM) that displays the MasterCard® or Cirrus® logos
NO Fee, NO Interest financing when you spend $200 or more* in-store at Canadian Tire using your Gas Advantage® Mastercard®
Checkout is faster with tap-to-pay technology
Get rewards without annual fees
Check your balance and make payments anytime
Instant eStatement notification by email
If you are not approved for a card at this rate, Canadian Tire Bank may still issue you a card at an interest rate of 25.99%.
Interest rate not mentioned on website.
Interest rate not mentioned on website.
Last updated 10/06/2020. Check with the credit card issuer for the most up-to-date information before applying.
Find errors in the information for this credit card? Report this listing.