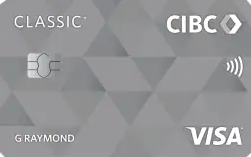 CIBC Classic VISA® Card
CIBC Classic VISA® Card
Get insurance coverage for no annual fee.
$0 annual fee for up to three additional cards
Up to 10 cents off per litre†
$100,000 Common Carrier Accident Insurance
Purchase Security and Extended Protection Insurance
No transaction fees* when you send a CIBC Global Money Transfer™
Travel
Travel Accident Insurance
$0 for up to 3 additional cards
$21.99 for Quebec residents
$21.99 for Quebec residents
†You will save three cents ($0.03) per litre at the time of your purchase if you present your Journie Rewards card or app and use your linked CIBC card to pay. Available at participating locations on any grade of gasoline or diesel up to 100 litres per transaction. To get the discount, you must be enrolled in and use CIBC Online Banking® or the CIBC Mobile Banking® App to link your eligible CIBC card(s) to Journie Rewards. Card linking may take up to two (2) business days. To participate in this offer, you must have a CIBC debit card or personal credit card issued by CIBC. All Simplii cards are excluded. Please see cibc.com/journie for full program terms and conditions.
*See site for details.
Last updated 10/14/2022. Check with the credit card issuer for the most up-to-date information before applying.
Find errors in the information for this credit card? Report this listing.